Fellow Hersh-Heads are encouraged to contribute!
If you have any corrections on lyrics, discographies, and so forth, please let me know so I can correct the problem ASAP - contributions will always be credited. Please feel free to send me your photos, articles, anything Kristin Hersh related, and I will be more than happy to put them up on the site. If you have your own Kristin Hersh, Throwing Muses or 50FOOTWAVE fan site, send me a link and I will add it to my links page. And please - if you see a photo of yours on this site that is not credited to you, I'm sure it was an unintentional oversight. Send me an email and I will resolve the issue right away. Any other comments, questions, or criticisms are always welcome.
Big, fat, extra-special "Thanks!" to the following people:
Kristin Hersh & Billy O'Connell for being two of the most wonderful humans to have ever existed (and for being so darn cute).
Marcel Haas (former host of countingbackwards.com and gloryweed.com) for providing an unimaginable amount of help & support.
Timo Stey (host of the Red Eyes tab site) for creating the only (incredibly accurate) Kristin Hersh tab site on the web and allowing me to link to it from this site.
And, of course, thank you for visiting!
Laura Elise
(halfbornhalfmade on the message boards)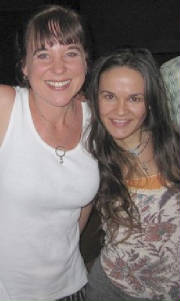 Laura Elise with Kristin